Monnasia Is A Teen Without A Home, But She Has A Spark Thanks To The YMCA
Working with the YMCA of Greater Cincinnati I am so fortunate to be around people who are completely dedicated to enhancing the lives of others. I've seen so many children who in their brief years already have to learn out of necessity how to find their inner strength from overcoming personal hardships. They do that because of the nurturing guidance of YMCA staff and volunteers.
Rebecca Kelley, executive director of the Community Services YMCA, had shared this story with me. It's a story she shared at the 21st Century Community Learning Center Conference in Washington D.C. earlier this year. Rebecca was speaking about the influence of supportive partners like JCPenney on her branch's ability to help young kids succeed but the story itself is what inspired me.
Monnasia's story
could be any of a number of Cincinnati area children who benefit from YMCA led afterschool programs.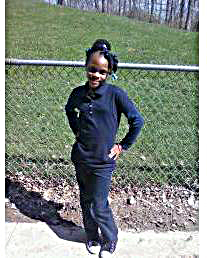 "Her smile captures your eyes first, then her dark brown eyes hold your attention," Rebecca explained. "Monnasia attends the YMCA's CincyAfterSchool program at her school, where she experiences nine research-based program components. With help from JCPenney tutor volunteers, she's improving in math and reading scores.  She enjoys expanding her knowledge and skills in global learning via the foreign language club, Skyping with students from Ireland, and salsa dancing that brings other cultures to life.  She serves on her program's Youth Advisory Council to develop her leadership skills and engage in service-learning.  Right now, Monnasia is enjoying Cincinnati Public Schools' Fifth Quarter, an extension of the school year for four weeks of instruction and enrichment delivered by school staff and community partners."
Then Rebecca explained how the little girl so excited about learning told her YMCA CincyAfterSchool coordinator that drawing her self-portrait made her sad and proud at the same time. Monnasia was at the global family portrait project at the Cincinnati Museum Center; and, while she liked opening her mind to other cultures, it reminded her of incredible pain. The kind of pain no child should have to endure.
"You see, Monnasia's family portrait looks different. She's homeless." Rebecca went on.
"Although Monasia receives support from caring adults and staff, as well as JCPenney's generous gift cards for school supplies and clothing in the past, Monnasia has to think about which house she'll be sleeping at this week.  When her school principal and YMCA site coordinator announced she would be honored as one of 28 CincyAfterSchool All-Stars, she had to figure out more logistics than most 12-year-olds on how she would get to the event and make it safely to her lodging that night.
"In nominating her for our All-Star Award, the principal noted how Monnasia has discovered her spark through the YMCA ArtWheels program.  She's exploring college and career options already, and learning which classes she needs to take to fulfill those dreams in her eyes.  She demonstrates care for others by reading to Kindergarteners and listening to 1st graders read.  We know she's going to succeed!," Rebecca concluded.